Panera Bread's Green Tea is a hit because it's a delightful blend of tropical goodness and earthy green tea.
The mix of papaya and mango flavors adds a fun twist to your taste buds.
Plus, the green tea leaves bring in that natural, down-to-earth vibe.
But.. I'm gonna talk about its caffeine content today!
Does Panera Green Tea have caffeine? No, it does not have caffeine. It is caffeine-free!
But you might want to know its different types, comparison with other popular tea drinks, benefits, and more!
How Much Caffeine Is In Panera's Green Tea?
You must be thinking now "Is Panera Passion Papaya Green Tea Caffeinated?"
Let me tell you, Panera's Green Tea, the Passion Papaya Iced Green Tea, is totally caffeine-free.
You can take a sip without any caffeine jitters or worries.
Panera is super clear about this on their website, and they even confirmed it on Twitter.
So, when you're craving a refreshing and caffeine-free drink, their green tea is a great choice.
Now, you might wonder why it's called "green tea" when green tea usually has caffeine.
Well, the magic here is that Panera's green tea is decaffeinated.
They've got green tea extract in there, but they've waved goodbye to the caffeine.
So, you get all the taste and none of the buzz – perfect for a relaxing sip anytime you want.
Scroll to the bottom to have copycat Panera Passion Papaya Green Tea recipe with ingredients and instructions. 
Caffeine in Panera vs Other Popular Tea Drinks
| Type of Tea | Caffeine Per Serving (mg) |
| --- | --- |
| Panera Green Tea | 0 mg |
| Panera Iced Black Tea | 50-70 mg |
| Panera Agave Lemonade | 0 mg |
| Starbucks Matcha Green Tea | 80-95 mg |
| Dunkin' Donuts Iced Tea | 81 mg |
| McDonald's Sweet Tea | 50 mg |
| Lipton Green Tea | 35-45 mg |
| Arizona Iced Tea | 30-50 mg |
| Matcha Latte | 70 mg |
| Matcha Blended Crème Frappuccino (Starbucks) | 75 mg (16 fl oz Grande size) |
| Jasmine Green Tea | 30-50 mg |
| Genmaicha | 25-35 mg |
| Iced Green Tea Lemonade (Starbucks) | 45 mg (16 fl oz Grande size) |
| Teavana Shaken Green Tea with Mint and Lemongrass (Starbucks) | 45 mg (16 fl oz Grande size) |
| Iced Peach Green Tea Lemonade (Starbucks) | 40 mg (16 fl oz Grande size) |
| Hojicha | Less than 3 mg |
| Thai Tea | 60-80 mg |
| Raspberry Tea | 10-30 mg |
Types of Panera Green Tea
Panera's Green Tea is all about that Passionfruit Papaya punch!
It's the only flavor they've got, but it's all you need for a refreshing, flavorful treat, especially on a scorching day.
They take classic green tea and amp it up with a burst of natural fruity goodness.
I mean, who wouldn't want a taste of passion fruit and papaya in their tea?
Now, let's talk about the good stuff inside.
They've got passion fruit, papaya puree, ascorbic acid (that's vitamin C for you), and beta-carotene (hello, vitamin A!).
It's like a health boost and a taste explosion rolled into one.
| Nutritional Content | Amount |
| --- | --- |
| Calories | 140 |
| Calories from Fat | 0 |
| Fat | 0g |
| Saturated Fat | 0g |
| Trans Fatty Acid | 0g |
| Cholesterol | 0mg |
| Sodium | 20mg |
| Carbohydrates | 35g |
| Dietary Fiber | 0g |
| Total Sugars | 35g |
| Protein | 0g |
| Caffeine | 0mg |
This delightful drink brings 140 calories to the table, and the good news is, it's fat-free – yup, zero grams of fat.
No need to worry about cholesterol either, because it's zilch!
Sodium content is pretty low at just 20mg.
Carbohydrate lovers, rejoice! You'll find 35 grams of carbs in this treat, and it's free from dietary fiber.
But here's the sweet part – a total of 35 grams of sugars that give it that irresistible taste.
For those caffeine-conscious folks, no need to fret because there's no caffeine in Panera's Green Tea.
So, if you're looking for a flavorful, caffeine-free refreshment, Panera's Passion Papaya Iced Green Tea might just be your new favorite sip!
What Brand Of Green Tea Does Panera Use?
Now, I've got to let you in on a little secret – Panera might not shout it from the rooftops, but they totally dig The Republic of Tea.
And why wouldn't they? Their teas are a flavor explosion, and this Passion Fruit Papaya Green Tea made from The Republic of Tea green tea is no exception.
Is Panera Green Tea Real Tea?
Yes, Panera's green tea is the real tea!
It's made from those green tea leaves straight from the Camellia sinensis plant, the one that's all about classic green tea goodness.
So when you sip on Panera's green tea, you're sippin' on some genuine green tea goodness!
Is Panera Passion Papaya Green Tea Sweet?
Yup, Panera's Passion Papaya Green Tea is definitely on the sweet side.
It's got a total of 35 grams of sugar in there, which gives it that delightful sweetness.
And the blend of passion fruit and papaya flavors? It's like taking a sip of the tropics.
No wonder so many folks at Panera love it!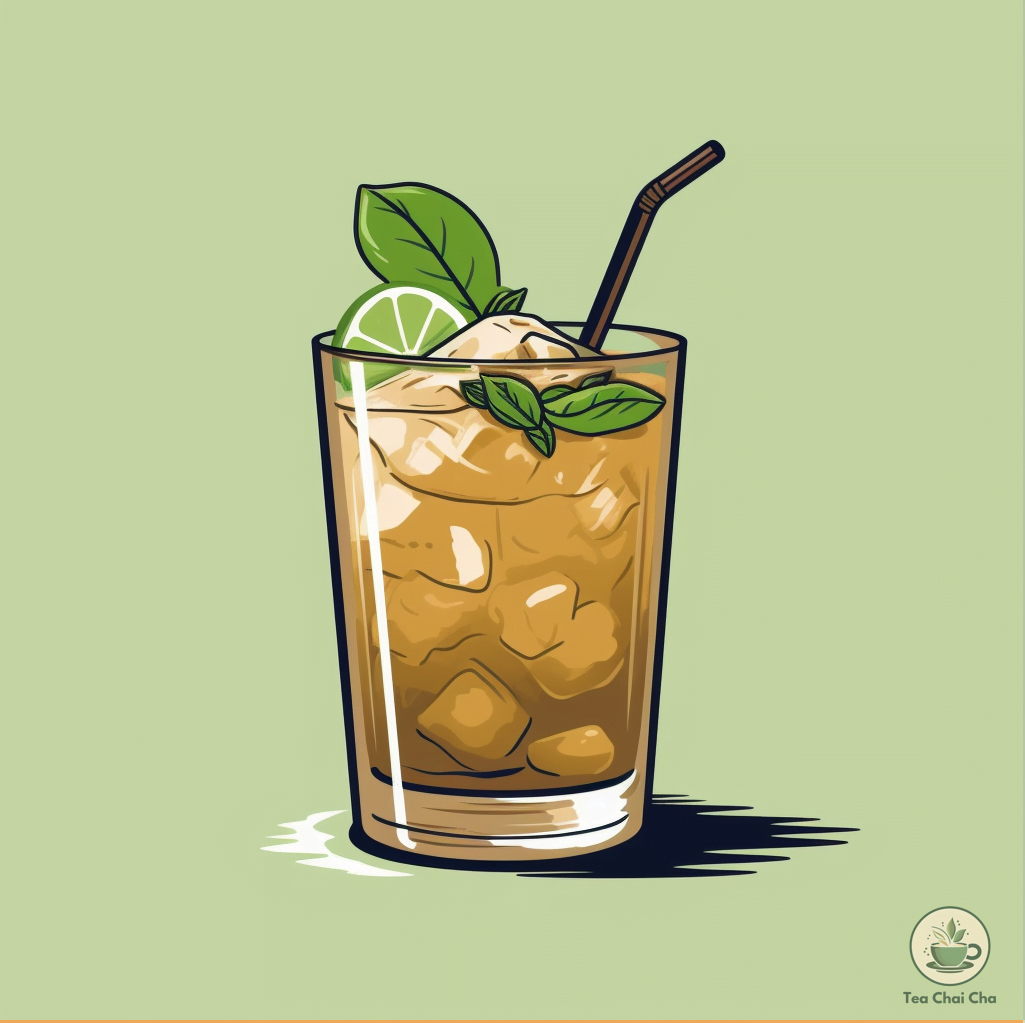 What Does Panera Green Tea Taste Like?
Panera Green Tea tastes really nice with a tangy, fruity, and sweet flavor profile.
It's made with green tea, which has a gentle, earthy flavor.
But what makes it special is the added natural papaya and mango flavors.
These flavors make it sweet and fruity, giving it a unique and refreshing taste.
When you take a sip, you'll enjoy a mix of these delicious flavors.
It's not your usual green tea, that's for sure!
Related: What Does Twisted Tea Taste Like? – DIY Recipe
Is Panera Green Tea Healthy?
Panera Green Tea may not be as healthy as it sounds.
Let me break it down for you.
The Not-So-Healthy Side
-> Sugar Shock
Panera Green Tea packs a punch when it comes to sugar.
A 20 oz serving has about 34mg of sugar, which is quite a lot.
That's similar to many sodas that we know aren't great for our health.
-> Calories Count
It's not just the sugar; this tea also brings in the calories.
A 20 oz serving has around 140 calories.
That's like having a mini meal in a drink!
5 Potential Benefits of Panera Green Tea
But wait, there's more to the story. Panera Green Tea isn't all bad news.
1. Antioxidant Boost
Green tea is loaded with antioxidants.
These can help protect your body from harm, like heart disease and cancer.
So, there's some good ingredients in there.
2. Hydration Helper
With its high water content, Panera Green Tea can keep you hydrated.
It's a tasty way to quench your thirst without plain water boredom.
3. Gentle Energy
If you need a little pick-me-up, this tea does not have caffeine but has calories.
It won't send you into hyperdrive like strong coffee, but it can help you stay alert when that afternoon slump hits.
4. Happy Tummy
The natural ingredients in Panera Green Tea, like green tea itself and fruit extracts, might make your tummy happy.
It can help with digestion and prevent that uncomfortable post-meal bloating.
5. Less Sugar
Comparing it to sugary drinks, Panera Green Tea is a better choice.
Yes, it has sugar, but it's not as sugary as many other options out there.
Alternatives to Panera Green Tea
If you love Panera's drinks but want to try something new or explore beverages with different nutritional qualities, you're in for a treat.
Panera offers a variety of tasty alternatives to their Green Tea.
1. Panera Iced Black Tea
If you enjoy a stronger tea flavor and a little caffeine kick, try Panera's Iced Black Tea.
It's brewed from fine black tea leaves and offers a delightful pick-me-up.
2. Panera Agave Lemonade
Craving something sweet and tangy without caffeine?
Give the Panera Agave Lemonade a go.
It's made with lemon juice and agave syrup, making it a refreshing choice, especially on hot days.
3. Panera Passion Papaya Green Tea
Want the benefits of green tea with a tropical twist?
The Panera Passion Papaya Green Tea is the answer.
It combines the goodness of green tea with the flavors of passion fruit and papaya.
4. Panera Hibiscus Lemonade
For a unique floral taste that's caffeine-free, the Panera Hibiscus Lemonade is a great choice.
It combines the tanginess of lemonade with the vibrant flavors of hibiscus tea.
5. Panera Blood Orange Lemonade
If you're looking for a caffeine-free citrus blend, the Panera Blood Orange Lemonade is perfect.
It blends sweet blood orange with tart lemonade, delivering a refreshing and invigorating combination.
What Are Panera Drinks? 
Panera's drink menu has a little something for everyone, whether you're in need of a caffeine boost, want something sweet, or just craving a refreshing beverage.
-> Coffee and Espresso Drinks
Panera has a nice selection of coffee and espresso drinks.
You can get your regular cup of joe, espresso shots, lattes, cappuccinos, and more.
They also have flavored syrups to add a little something extra.
-> Iced Coffees
When it's hot outside, you can cool down with Panera's iced coffees.
They come in various flavors, and you can even add cream and sugar to make it just the way you like.
-> Teas
If you're a tea person, Panera has you covered.
They offer different types of tea like green tea, black tea, and hibiscus tea.
You can have them hot or iced, with or without sweeteners.
-> Lemonades
When life gives you lemons, Panera turns them into delicious lemonades.
They're refreshing and perfect for a sunny day.
-> Soft Drinks
For those who prefer soda, you can find a variety of soft drinks at Panera.
They have classic choices like cola, lemon-lime, and more.
-> Smoothies and Milkshakes
If you're in the mood for something fruity and creamy, try one of Panera's smoothies or milkshakes.
They're the tasty treat you can sip on lovingly.
Related
Homemade Panera Passion Papaya Green Tea
Course: Drinks
Cuisine: American
Brew your own Homemade Panera Iced Green Tea within 10 minutes!
Ingredients
1.5 cups Water

2 teabags of Passionfruit Papaya Green Tea

2 tablespoons Honey

1 teaspoon Lemon juice

4-5 pieces Fresh mint
Directions
Start by boiling 1.5 cups of water in a kettle or on the stove.
Once the water is boiling, pour it into a heatproof pitcher or container.
Add the 2 teabags of Passionfruit Papaya Green Tea to the hot water. Let them steep for about 5-6 minutes. This will infuse the tea with a lovely tropical flavor.
After steeping, remove the teabags and allow the tea to cool down to room temperature. You can speed up the process by placing it in the refrigerator for a bit.
Once the tea has cooled, it's time to sweeten it up a bit. Add 2 tablespoons of honey to the tea. You can adjust the amount of honey to your taste if you prefer it sweeter or less sweet.
Stir the honey into the tea until it's fully dissolved.
Now, let's add a hint of zesty freshness. Squeeze in 1 teaspoon of lemon juice and give it a gentle stir. The lemon juice adds a delightful tang.
Grab 4-5 fresh mint leaves and gently crush them between your fingers to release their aroma. Add these to the tea and give it a final stir.
Fill a glass with ice cubes and pour your homemade Panera Iced Green Tea over the ice.
Garnish with an extra sprig of fresh mint if you like, and there you have it, a refreshing glass of Panera-style Iced Green Tea, made with love and simple ingredients. Enjoy!
Recipe Video
Notes
No Passionfruit Papaya Green Tea Bags?: If you can't find Passionfruit Papaya Green Tea bags, you can use regular green tea bags and add a splash of passionfruit juice or a teaspoon of passionfruit puree for that fruity flavor. Adjust the amount to your taste.
Storing Brewed Tea: If you want to make a larger batch and store it for later, make sure the brewed tea has cooled to room temperature. Then, transfer it to an airtight container and store it in the refrigerator. Properly stored, it should stay fresh for up to 2-3 days. When serving, pour it over ice and add the honey, lemon juice, and mint just before enjoying to maintain the freshest flavors.
Customize to Taste: Feel free to adjust the sweetness level by adding more or less honey. If you prefer a stronger tea flavor, you can use an extra tea bag or steep it a bit longer. Don't be afraid to make it your own!